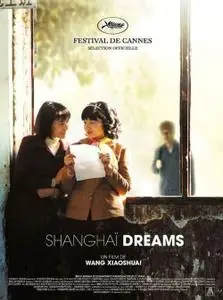 Shanghai Dreams (2005)
DVDRip | MKV | 720x392 | x264 @ 1800 Kbps | 116 min | 1,62 Gb
Audio: 官话 MP3 @ 192 Kbps | Subs: English (embedded in MKV)
Genre: Drama
Director
: Xiaoshuai Wang
Writer
: Xiaoshuai Wang
Stars
: Yuanyuan Gao, Bin Li, Hao Qin
In the 1980s, encouraged by the government, a large number of families leave Chinese cities to settle in the poorer regions of the country, in order to develop local industry. The film's main character is a 19 years old girl who lives in the Guizhou province, where her parents have settled. That's where she has grown up, where her friends are and where she first experiences love. But her father believes that their future lies in Shanghai. How can they all keep on living together when they don't share the same dreams?
the story takes place in inland china in the 70's. it shows the life of a middle class family relocated to the inland factory by the communist party. these people who were originally from shanghai, consider life in the mountainous town to be futureless for themselves and their children. the father in particular takes out some of his frustration on his daughter, who is just blooming and is in love with a young man.

this movie works on several levels. it shows the conflict between the parents and the young woman, it shows the secret life of her social age, it discuss's the cultural revolution (the kids dance to western music) happening in china about that time as contrasted to the staid and solid existence of a factory worker. the movie does critique the communist government, but in an elliptical manner, since i guess it does have to pass the censors in china. but i think that works to it's credit.

this movie shows a complete and very accurate view of china in this time period. the houses, the kitchen, the school, the way they dress and their aspirations, the attitude of the parents and the children, it is all spot on. my only negative would be that the storyline for the young girl is somewhat overly dramatic. it is as if the director started by focusing on her and then shifts to a more general broad view of life. i especially enjoyed the acting of the father and overall i thought it was very realistic and well shot.

i highly recommend this movie.
(click to enlarge)
More in My Blog