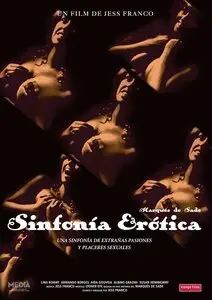 Sinfonía erótica (1980)
DVD5 (VIDEO_TS) | PAL 4:3 (720 x 576) | AC3 2.0 @ 192 Kbps | 01:20:35 | 3,54 Gb
Lang: Spanish | Subs: English
Genre: Drama, Romance | Spain, Portugal
Director:
Jesus Franco
Martine de Bressac returns home after a brief stay in a mental institution only to discover that her husband Armand who has been having an affair with a man named Fiore who works for them. Norma is a novice nun who violated body is discovered in the woods by Armand who takes the young woman home. Armand, Norma and Fiore conspire to rid themselves of Martine by murdering her and taking her fortune…..
IMDB
One of the many Franco's adaptations from the work of Marquis De Sade (Justine's de Bressac episode), SINFONIA EROTICA postpones the action to more than a century later, plunging it in that late-romantic, languid and decadent atmosphere so perfectly embodied by Liszt's music. The director's aesthetic choices follow from this chronological shifting, beginning with the decadent setting in an old villa, as vast as it is bare, surrounded by an autumnal nature filmed by Franco and cinematographer Juan Soler using French Impressionism as their model. But as Franco has no intention to pay tribute to a costume-film's oleography (he already did this in the late 60s), so, too, he doesn't limit himself to use Liszt's music as an historical element but establishes a deep connection between musical and visual forms. Even more than Wagner, Liszt was the composer who, in 19th century, dissolved the certainties of the classical form. The paratactic structure of his harmonic language and the cyclical (instead of dialectical) form of his compositions are the basis on which he develops those melodies which seem to be wandering about aimlessly (so well represented by the Second Concerto) finding a perfect visual answer in Franco's slow and unforeseeable camera movements and in that extreme dissolution of the space co-ordinates, which is the most fascinating aspect of SINFONIA EROTICA.




In all the key-scenes Franco refuses to rationalize the organization of space by means of field depth, but restricts the focus to a portion of an image or even concentrates only on close-ups and details, without the unceasing camera work (almost a subliminal melodic journey) clearly showing us the real structure of the rooms and especially the bedrooms in which most of the action takes place. The rest is darkness, shadows and out-of-focus: forms and techniques already used by Franco, examples of which are easily found in his later movies, but which in SINFONIA EROTICA are realized in a particularly extreme and radical way. What drives the director in this direction is without doubt the need to create a kind of spongy image, fit to become imbued with music; whereas what makes the experiment successful is probably the presence of a new cinematographer, that Juan Soler who, from SINFONIA EROTICA onwards, will work on Franco's side in almost fifty films (also playing in many of them) and who was perhaps his ideal collaborator behind the camera.




The film's conclusion is as melodramatic as unforeseen. At long last fucked by her husband, Martine dies – or rather seems to die – of a hearth attack, while Armand, Flor and Norma stage a cheerful, grotesque farewell. One night, some time later, the Marquis takes revenge for Flor's infidelity by running him and Norma through with one of his ancient swords while they are making love. In the end, he, the only survivor in the villa, deeply grieving, hears the noise of steps: it's Martine who didn't really die and now walks through the villa in a violet dressing-gown moving toward her husband to take her final revenge; the man, now psychically exhausted, not only doesn't defend himself but even prays the wife: "Put an end to my remorse: kill me." So, Martine takes the sword with which he had formerly killed Flor and Norma and slowly runs it through his throat.




A very intense and exciting ending, which may, however, leave the viewer perplexed since Franco doesn't explain why Martine – whom all of us thought died – is, in fact, alive. Did she pretend to be dead? Did she ingest a drug which led her to catalepsy?

But once again what appears obscure on the plot level, looks perfectly clear on the psychological one, as the very death is the necessary condition that allows Martine to revive as a recovered woman.

It's time to leave home. Martine runs towards the hug of shady Dr. Louys, who waits for her at the end of the corridor: "Life begins again for you – I fear – […] You must forget these old walls, this sad story."




Such a melodramatic ending would be enough to justify Franco's choice of moving the action to late 19th century (or perhaps early 20th, but anyway within a 19th century atmosphere). However one mustn't forget that 19th century aesthetic universe – its iconography, its music – coincides here with the poetical dimension of remoteness and memory, i.e. it's seen from a modern times perspective. And here is the essential difference between Jess Franco and those directors who deceive themselves (and the audience) that they can really recreate on the screen an age which isn't theirs. So, the personal story of Martine, her coming back home, gains the meaning and the value of a wider and in the meantime more complex, two-faced spiritual experience: SINFONIA EROTICA is the confession of a nostalgia for the romantic-decadent culture and at the same time the pitilessly realistic portrait of the nature of the man-woman relationship in the nowadays not-yet-ended age of idealism (and consequently of sexual inhibition/repression) and told from the point of view of a director who has already filmed for the screen all kinds of erotic scenes. In other words, the ambivalence of Martine's feeling isn't anything else than the mirror of the attitude of Franco, whose point of view doesn't get unified even at the end, as by surprise the camera doesn't follow Martine and her shady psychoanalyst/lover in their victorious going out from the villa, but turns back its last look/shot at first on the romantic death embrace of that odd couple of young lovers with a questionable past – a gay Romeo and a nun Juliet – and then on the dissolved in a light halo candle's little flame, the very symbol of the 19th century: two archetypal-images on which Liszt's Concerto affixes its musical seal.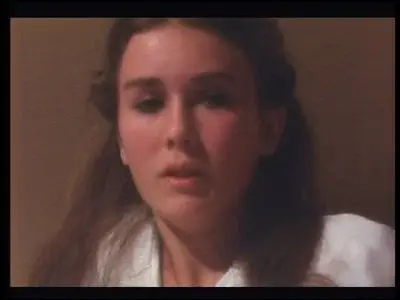 Many Thanks to Original uploader.
If you want to download it, but found out that links are dead,
just leave a comment or PM me!
No More Mirrors.