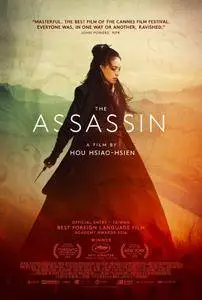 The Assassin (2015)
DVDRip | MKV | 720 x 468 | x264 @ 2016 Kbps | 105 min | 1,77 Gb
Audio: Chinese AC3 5.1 @ 384 Kbps | Subs: English (embedded in MKV)
Genre: Action, Drama
Director
: Hsiao-Hsien Hou
Writers
: Cheng Ah (screenplay) (as Zhong Acheng), T'ien-wen Chu (screenwriter)
Stars
: Qi Shu, Chen Chang, Yun Zhou
In 8th century China, 10-year-old general's daughter Nie Yinniang is handed over to a nun who initiates her into the martial arts, transforming her into an exceptional assassin charged with eliminating cruel and corrupt local governors. One day, having failed in a task, she is sent back by her mistress to the land of her birth, with orders to kill the man to whom she was betrothed - a cousin who now leads the largest independent military region in North China. After 13 years of exile, the young woman must confront her parents, her memories and her long-repressed feelings. A slave to the orders of her mistress, Nie Yinniang must choose: sacrifice the man she loves or break forever with the sacred way of the righteous assassins.
Many of the audience will not find this movie to be much flattering. Even in China, where the cultural barriers are not supposed to be a big problem, lots of people fall into sleep in the cinema. But there are still some fans of this movie, just like me.

1). Actually it has a quite complete story, which is about politics. In history of China, the tension between the central control and the local force has always been a problem for thousands of years. Weibo, the place where the story happens, has witnessed two different political forces fighting with each other. One group, inclined to make peace with the central court, includes Nie Yinniang and her family. The other group, inclined to the strengthening of local power, includes the wife of the lord (their marriage is a political alliance at the beginning, the same with the marriage of the lord's princess mother). As a fan who always love dramas of political fights, I quite fancy this story.

2). Tang Dynasty has always been a fantasy to most Chinese people. With a frequent communication with different ethics and civilizations, Tang's culture was quite inclusive, and even a little bit exotic for Chinese people. While most shoddy TV plays and films fail to represent Tang's lifestyle, this film presents not only the dazzling costumes and dances, but also original Tang Style's architecture. All those elements make the film attractive.

3). The film's pacing is very slow, and the actions of characters are very simple. The dominance in the shots is shared by natural elements, such as wind, smoke, fog, etc. The way how natural scenes are unfolded, as well as how people are embedded in the space, follows a pattern of classical Chinese poetries and paintings. People who love Chinese poetries and paintings would certainly like this film.
(click to enlarge)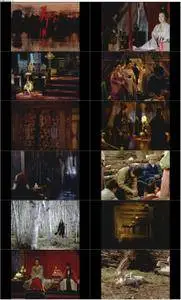 More in My Blog