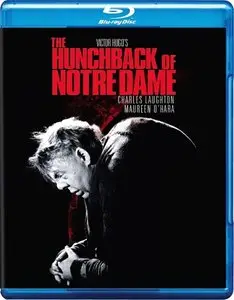 The Hunchback of Notre Dame (1939)
BDRip | MKV | AVC, 6170 Kbps | 986x720 | 23.976 fps | 5.36 GB | 3% Recovery | Runtime: 116 Min
Audio : English FLAC | 1 channels | 48 KHz | Subtitle : English, Spanish, French, German
Genre: Drama | Horror | Romance
King Louis XI is a wise and old king and Frollo is the Chief Justice. Frollo gazes on the gypsy girl, Esmeralda, in the church during Fool's Day and sends Quasimoto to catch her. Quasimoto, with the girl, is captured by Phoebus, Captain of the Guards, who frees the girl. The courts sentence Quasimoto to be flogged, and the only one who will give him water while he is tied in the square is Esmeralda. Later, at a party of nobles, Esmeralda again meets both Frollo, who is bewitched by her, and Phoebus. When Phoebus is stabbed to death, Esmeralda is accused of the murder, convicted by the court and sentenced to hang. Clopin, King of the Beggars, Gringoire the Husband of Esmeralda, and Quasimoto, the bellringer, all try different ways to save her from the gallows.
IMDB

Generic infos

Duration 01:56:44 (7003.915 s)
Container matroska
Production date Tue, 09 Jun 2015 19:49:24 -0700
Total tracks 9
Track nr. 1 video (V_MPEG4/ISO/AVC) {eng}
Track nr. 2 audio (A_FLAC) {eng}
Track nr. 3 subtitle (S_TEXT/UTF8) {eng}
Track nr. 4 subtitle (S_TEXT/UTF8) {spa}
Track nr. 5 subtitle (S_TEXT/UTF8) {spa}
Track nr. 6 subtitle (S_TEXT/UTF8) {fre}
Track nr. 7 subtitle (S_TEXT/UTF8) {ger}
Track nr. 8 subtitle (S_TEXT/UTF8) [SDH] {eng}
Track nr. 9 subtitle (S_TEXT/UTF8) [SDH] {ger}
Muxing library libebml v1.3.1 + libmatroska v1.4.2
Writing application mkvmerge v7.9.0 ('Birds') 64bit

Relevant data

Resolution 986 x 720
Width multiple of 2
Height multiple of 16
Average DRF 16.216583
Standard deviation 3.437761
Std. dev. weighted mean 3.429635

Video track

Codec ID V_MPEG4/ISO/AVC
Resolution 986 x 720
Frame aspect ratio 493:360 = 1.369444
Pixel aspect ratio 1:1 = 1
Display aspect ratio 493:360 = 1.369444
Framerate 23.976024 fps
Stream size 5,401,784,474 bytes (5151.543116 MiB)
Duration (bs) 01:56:43 (7002.954236 s)
Bitrate (bs) 6170.863658 kbps
Qf 0.362543

Audio track

Codec ID A_FLAC
Sampling frequency 48000 Hz
Channels 1
Sample size 16-bit