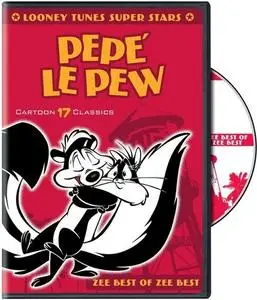 Looney Tunes Super Stars - Pepé Le Pew: Zee Best of Zee Best (1945-1962)
DVD Video | NTSC 4:3 | 720x480 | 17 x ~ 7mn | 6.56 Gb
English \ Thai (ภาษาไทย): AC3, 1 ch; English: AC3, 2 ch
Subtitles: English, French (Français), Thai (ภาษาไทย)
Genre: Animation, Comedy, Short

These are all 17 Looney Tunes cartoon shorts featuring Pepé Le Pew.
Including 14 shorts never before seen on video or DVD, these 17 trés aromitique outings feature the love-struck skunk falling hard for felines, canines and - sacre maroon! - the occasional fur coat! In Dog Pounded, our powerfully perfumed protagonist costars with Tweety and Sylvester. Then there's Pepé's Academy Award-winning tour-de-farceFor Scent-imental Reasons (The rumor his Oscar was madefrom Le Pew-twer is unconfirmed). And that's just a whiff of the richly fragrant fun you'll have watching "ze locksmith of love" in ac the one-and-olfactory Pepé Le Pew!
Contents:
01. Odor-able Kitty
02. Scent-imental Over You
03. Odor of the Day
04. For Scent-imental Reasons
05. Scentimental Romeo
06. Little Beau Pepé
07. Wild Over You
08. Dog Pounded
09. The Cats Bah
10. Past Perfumance
11. Two Scent's Worth
12. Heaven Scent
13. Touché and Go
14. Really Scent
15. Who Scent You?
16. A Scent of the Matterhorn
17. Louvre Come Back to Me!