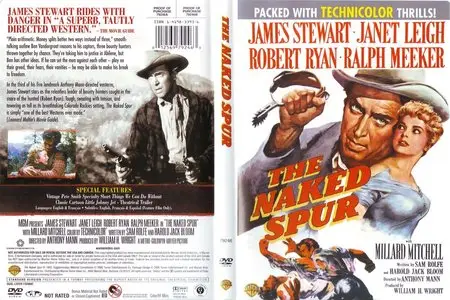 The Naked Spur (1953)
DVD9 | ISO | NTSC 4:3 (720x480) | HQ Scans (2 JPGs) | 01:31:44 | 5,86 Gb
Audio: English AC3 1.0 @ 192 Kbps; French AC3 1.0 @ 192 Kbps | English, French, Spanish
Genre: Western | Nominated for Oscar | USA
Outlaw Ben Vandergroat (Robert Ryan) and his 'traveling companion' Lina Patch (Janet Leigh) are captured by mysterious loner Howard Kemp (James Stewart), with a major assist from AWOL cavalryman Roy Anderson (Ralph Meeker) and grizzled prospector Jesse Tate (Millard Mitchell). Roy and Jesse think they're helping an official lawman, but Ben jeeringly lets them know that Howard is really an amateur bounty hunter seeking revenge. The troubled party of outcasts starts to take Ben back to civilization to split the reward, which gives Ben time to play one captor against the other. Roy and Jesse are easily swayed by greed, and Ben encourages Lina to cozy up to Howard, to find a weakness in his armor.
IMDB
DVDBeaver
One of the most intense psychological Westerns of the 1950s is as much an edgily melodramatic character study as a Western. Anchored by James Stewart's anguished performance, in his third Mann Western, the five characters struggle between instinct and morality, a conflict heightened by their isolation in a Colorado landscape free of the trappings of civilization. Robert Ryan's smoothly manipulative villain may be the bounty target, but Millard Mitchell's prospector and Ralph Meeker's soldier aren't solid citizens either; Janet Leigh's Lina is the only voice of propriety. Stewart's Howard, emasculated by a treacherous wife, teeters on the brink of hysteria and excessive violence, even after he manages to reclaim the strength to kill his quarry. In a dramatic departure from the traditionally taciturn, resilient Western hero, Howard can only collapse sobbing into Lina's arms as he acquiesces to her moral imperative at the conclusion. Shot on location in the Rockies with Mann's customary pictorial beauty and violence, The Naked Spur was a vital sign of the Western's postwar turn toward revisionism and neurosis, and one of the best of Mann's five westerns with Stewart.


Lucia Bozzola, Rovi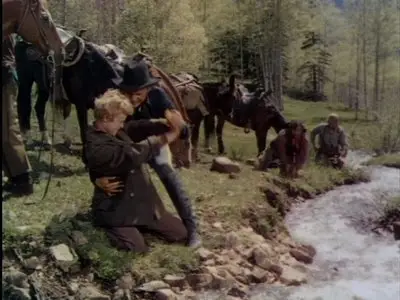 Anthony Mann ("The Man From Laramie"/"Man of the West ") directs this wonderfully intense psychological Western built around a simple story of greed and the chance to start life over again after failure. The taut complex psychologically driven story is penned by Sam Rolfe and Harold Jack Bloom. It stars James Stewart (the third of five Western collaborations between actor and director) as bounty hunter Howard Kemp from Abilene, Kansas, who ventures to the Colorado Rockies (filmed on location) to bring back either dead or alive lawman killer Ben Vandergroat (Robert Ryan) for the $5,000 reward.




A sullen and self-absorbed Howard Kemp comes upon scruffy, friendly, luckless, old-time prospector Jesse Tate (Millard Mitchell) and pays him $20 bucks to locate where he saw a campfire, while leading him to believe he's a sheriff. Kemp then meets on the trail dishonorably discharged cavalry lieutenant Roy Anderson (Ralph Meeker), a happy-go-lucky type who insists on trailing along for the sport of it. Ben is spotted on a mountain top but causes a rock slide so Kemp can't get to him. But Roy is able to use his rope to scale the back side of the mountain and get the jump on the outlaw. Lina Patch (Janet Leigh) is with Ben, she's a hometown gal whose deceased dad was Ben's best friend and the feisty gal has joined him so that he can safely take her to California to start over again her unhappy life. Unable to bring the wanted man in alone without the help of the others, Kemp accepts their help and after his prey is captured plans on bringing him back alone. But when Ben informs them he's no sheriff but a bounty hunter, the others insists he's to split the reward with them. This doesn't sit right with the brooding man, who needs the entire reward to piece his life back together after his faithless wife sold his ranch when he went off to fight in the Civil War. Kemp has spoken with the current owners and they're willing to sell the ranch back to him for the reward money.




On the ride back Kemp and his oddball partners, who refuse to leave, are manipulated by the cunning Ben into being played off against one another. Mann expertly plays the beautiful landscape against the flawed nature of the men as slowly each of their dark sides is revealed, and the trek home through the wilderness is fraught with many dangers that include the jolly Ben slyly getting his warped captors to try and kill each other off for the whole reward, a party of Blackfeet Indians brutally ambushed after chasing Roy for his womanizing with a squaw, the wily prospector turning swinish and being tricked into letting the charming Ben escape so he can lead him to a gold mine, and the lonesome Kemp falling in love with the equally lonesome Lina and having to choose between money and love after the brutal concluding events leave him wondering if he has completely lost his sense of humanity and values.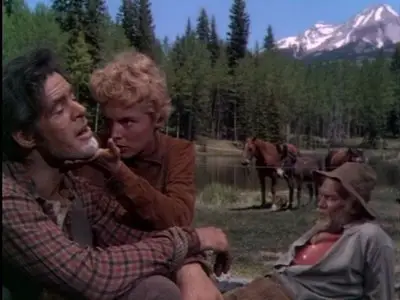 Anthony Mann's westerns are morally heavy and stylistically exciting, and The Naked Spur is one of his best, less cornball than his Universal "good vs bad apple" movies (Bend of the River, The Far Country) and a bit less pretentious than his Shakesperian-themed later work, like The Man from Laramie. Much like a Boetticher-Scott story, it takes place entirely in the wild, away from towns; the characters are 'stripped naked' by the violent events to reveal their true natures.




The script isn't thoroughly original, as Millard Mitchell's prospector is right off the stock character shelf, and excellent actors Ralph Meeker and Robert Ryan play baddies of one and two dimensions, respectively. Meeker's rotten soldier is a simple creep with an Indian chief after him for raping one of their women; he forces Kemp's band to help him ambush the whole tribe. As is typical for a 50s western, the moral complexity of the situation is erased in a simple massacre of Red Men. We're more concerned with Howie Kemp's reversion to savagery than we are the obliteration of the innocent Indians.




Robert Ryan is likewise not utilized to his full potential, as the script reveals little depth below his sneering bluff. He starts off great, with one of his best lines ever (para): "Ain't it the way? You get set to face trouble head-on and it sneaks up behind ya every time!" Unfortunately, Ryan's later tricks to turn his captors against one another are so transparent that we wonder how he can fool even the dimwitted Jesse.

Mann compensates for the imperfect script with a masterful visual sense, jamming the Technicolor camera up into the rocks (more 'naked spurs') and shoving the violence in our faces: Painful rope burns, a rockslide filmed looking up past the frightened Stewart, a cave-in, the Indian attack and an impressive conclusion in the midst of some roaring mountain rapids. William Mellor's Technicolor camera soaks up the beautiful but dangerous scenery, giving the film a psychotic landscape – all of this violence and torment plays out in a forested wonderland.




Stewart is burned, shot, and almost buried alive; and his suffering results in Janet Leigh transferring her concern and affections to him, especially when Ryan's Ben Vandergroat shows how ruthless he's willing to be. Detractors of Stewart point to the fact that he uses the same limited neurotic tricks when playing disturbed characters, but his final dramatic scenes are still effective and touching. He has a choice of becoming a heartless bounty hunter or rejoining the living and going on with Janet Leigh to a possible better future. A dead body means money to replace what was stolen from him and he shows his bitterness when he rejects his dark plans. Perhaps this is small potatoes in the spectrum of great acting, but in western films the scene is quite a revelation.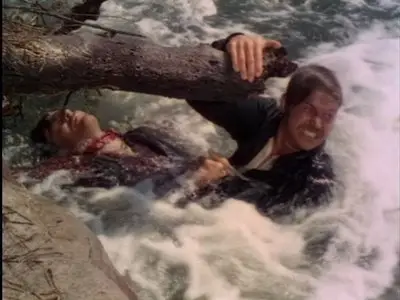 Edition Details:
• Featurette short - Things We Can Do Tonight
• Little Johnny Jet - Tex Avery cartoon
• Theatrical trailer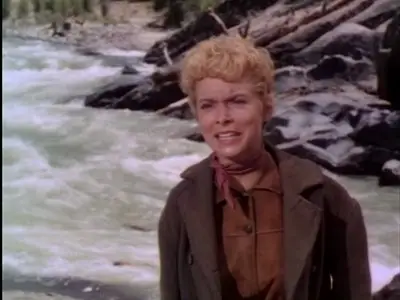 Download:










Interchangable links.
Many Thanks to palema.
No More Mirrors.