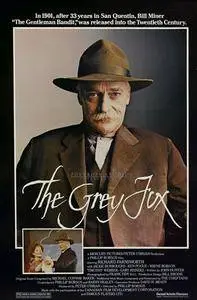 The Grey Fox (1982)
LDRip | AVI | 624x464 | XviD @ 1921 Kbps | English AC3 2.0 @ 192 Kbps | 91 min | 1,36 Gb
Genre: Drama, Romance
Director:
Phillip Borsos
Writer:
John Hunter
Stars:
Richard Farnsworth, Jackie Burroughs, Ken Pogue
Old West highwayman Bill Miner, known to Pinkertons as "The Gentleman Bandit," is released in 1901 after 33 years in prison, a genial and charming old man. He goes to Washington to live and work with his sister's family. But the world has changed much while he has been away, and he just can't adjust. So he goes to Canada and returns to the only thing familiar to him – robbery (with stagecoaches changed to trains).
I think this is one of the most flawless and beautiful movies of all time. The acting and casting is impeccable. What I particularly love is the script; so few words but when something is spoken each line has such weight and impact. And the music is amazing. What a brilliant idea, a western with Celtic (the Chieftains) music. The spirit and emotion of the music enhances every scene and is so fresh and unexpected and ultimately, right. And it's such a wonderful love story. Normally I wouldn't care about a romance between two older characters, but I root for these two characters in each and every scene. Richard Farnsworth was nominated for Best Actor and it is a shame he didn't win. Please, watch it if you haven't.
(click to enlarge)

More in My Blog