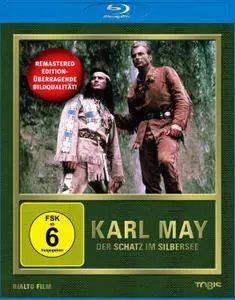 The Treasure of the Silver Lake (1962)
BDRip 720p | MKV | 1280 x 720 | x264 @ 2048 Kbps | 1h 51mn | 2,12 Gb
Audio: English AC3 2.0 @ 224 Kbps and Deutsch AC3 5.1 @ 448 Kbps | Subs: English
Genre: Western, Adventure | Director: Harald Reinl
In Arkansas, a stagecoach is robbed by Colonel Brinkley's gang. What the gang is really after is a treasure map one of the stagecoach passengers carries. However, Mr. Engel only has half the map. The other half of the treasure map is held by Engel's partner, a Mr. Patterson. Even so, the gang kills Engel and steal his half a map. Later, Fred Engel, the son of the murdered stagecoach passenger, seeks help to find his father's killers and retrieve the map. He contacts famous frontier scout Old Shatterhand and his Apache blood brother Winnetou. The three men set out to catch the killers. Fred Engel reveals to his two friends that his father's missing map pinpoints the location of a gold treasure at Silver Lake. They head toward the farm owned by Mr. Patterson, Engel's business partner. Patterson has the other half of the map and a daughter, Ellen, whom Fred is in-love with. Unfortunately, Colonel Brinkley's gang has the same idea of retrieving the other half of the treasure map, since the gang already has the first half of the map.
Having read some of the comments on this film I feel somehow compelled to defend one of my favourite childhood movies. First off, I find it very odd that accuracy in the depiction of Indian culture and the what kind of equipment was used in a film made in the 1960s, when with very few exceptions (such as Cheyenne Autumn and Broken Arrow) American Westerns only depicted Indians as villains. Moreover, in the 1960s cinematography was maybe a bit more boring by modern music-video style cutting standards. Also, the prop work (costumes, the kind of guns and knives used etc….excuse me?) was simply making do with what you could get. This was not a multi-million-dollar budget movie, it was produced for German TV in a coproduction with Yugoslavia and I think Italy. Of course the story is full of clichés, and that's not surprising since Karl May never even left Germany, he was writing escapist romanticised fantasies of noble savages and cowboys fighting against evil savages and cowboys, it's not an ethnographic study on mid-19th-century Native American war-painting styles. It is still a very good and entertaining movie with likable characters, including some for comic relief. It is still the best of all the Karl May films, even though it greatly deviates from the book. When you see these films as an adult and don't know them from childhood I can understand they don't really grip you or blow you away. But they are classics. Their clichés, great music, and scenery make them so popular and the films have, along with the books, had a great impact on popular culture in Germany, even having spawned their own spoofs and parodies. If you are looking for factual accuracy, don't watch Westerns at all, if you just like a good adventure story, watch it.
(Enlargeable)