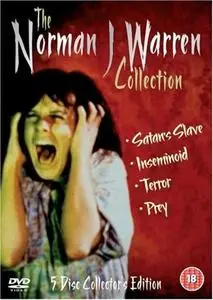 Norman J. Warren Collection: Satan's Slave / Inseminoid / Terror / Prey (1976-1981)
DVD Video, 5 x DVD9 | PAL 4:3 | 720x576 | 86 mn + 84 mn + 93 mn + 78 mn | ~ 29.9 Gb
English: Dolby AC3, 2 ch | Subtitles: None
Genre: Horror
Cult horror movie director Norman J. Warren was born on June 25, 1942 in London, England. His fright features are distinguished by their cold, grim tones, modern-day settings (this was a radical departure from the period Gothic horror movies made by Hammer), young adult main characters, and startling outbursts of hideously graphic violence. Norman suffered from polio as a child and hence has only one functioning arm. An avid film buff since he was a little kid, Warren got his start working as a runner on "The Millionairess" and handled assistant director chores on the 1962 feature "The Dock Brief."