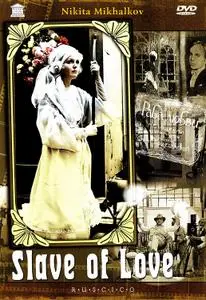 Раба Любви / Raba lyubvi / A Slave of Love (1975)
DVD9 | VIDEO_TS | NTSC, 4:3 (720x480) VBR | 01:29:22 | 7.4 Gb
Audio: Русский AC3 5.1 @ 448 Kbps or AC3 1.0 @ 96 Kbps | Subs: English, Français, Русский
Genre: Drama, Romantic Drama, Tragicomedy
The 1920s' Civil War in Russia. In a small Southern town occupied by the White Guards, a film group from Moscow is shooting a salon drama under the title of "Slave of Love". Invited to play the leads are a silent film star, Olga Voznesenskaya, (the character's prototype is the famous early-20th-century Russian actress Vera Kholodnaya) and no less prominent movie actor Maksakov. The cameraman Victor Pototsky is clandestinely making the documentary filming of arrests and shootings, carried out in the town by the White Army Counterintelligence. Victor is in love with Olga, and he is trying to explain to this gorgeous, politically ignorant woman the monstrosity of what is going on in Russia.