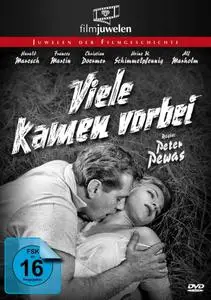 Many Passed By / Viele kamen vorbei (1956)
DVD Video | 1hr 16mn | PAL 16:9 | 720x480 | 4.94 Gb
DVDRip | MKV | AVC 540x576, ~ 1.7 Mbps | 1hr 16mn | 1.01 GB
English: AC3, 2 ch, 192 kbps | Subtitles: English
Genre: Crime, Drama
The fact-based "Viele kamen vorbei" ("Many Passed By") was inspired by a well-publicized series of sex killings along the highways of Germany. The principal character is an innocuous-looking psychopath who picks up young, female hitchhikers, sexually assaults his victims, then strangles them. Though handled in a methodical, documentary-style fashion, the more exploitational aspects of the story still rise to the surface. Harald Maresch is disturbingly convincing as the handsome, personable killer.