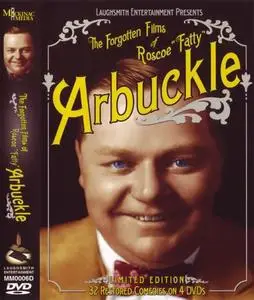 Forgotten Films Of Roscoe "Fatty" Arbuckle (1913-1932)
DVD Video, 4 x DVD9 | NTSC 4:3 | 720x480 | ~ 625 mn | ~ 29.8 Gb
English (musical score): Dolby AC3, 2 ch \ English (commentary): Dolby AC3, 2 ch
Subtitles: English (intertitles)
Genre: Comedy, Musical, Silent Films
Roscoe arrived in Los Angeles in April of 1913. He had played the vaudeville circuits on his own since he was 15 years old. Now, at age 26, he was ready to break into the movies. Bringing his portfolio of pictures and reviews with him, he dressed up in his best white suit and set off to the Keystone Studios. As the story goes, which is probably apocryphal, when Roscoe arrived at the lot, no one stopped or questioned him so he wandered around the open stages and buildings. Someone opened a door and stepped out, turned to Roscoe and spit chewing tobacco juice on his new white pants. The man said "You, big boy, be here tomorrow morning at eight." Then walked back in. The man was Mack Sennett, head of the studio. Roscoe "Fatty" Arbuckle had broken into the movies, and who would turn out to be one of the great silent comedians.