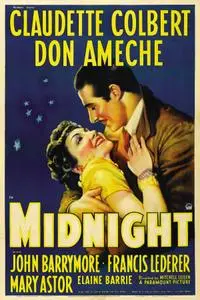 Midnight (1939)
DVDRip | MKV | 640x480 | x264 @ 2424 Kbps | English AAC 2.0 @ 114 Kbps | 94 min | 1,68 Gb
Genre: Comedy, Romance
Showgirl Eve, stranded in Paris without a soul, befriends taxi driver Tibor Czerny, then gives him the slip to crash a party. There she meets Helene Flammarion and her gigolo Picot, who's attracted to Eve. Helene's scheming husband Georges enlists Eve's aid in taking Picot away from his wife. It works well - at first. Meanwhile, lovestruck Tibor searches for Eve. But then he learns she's calling herself Baroness Czerny.