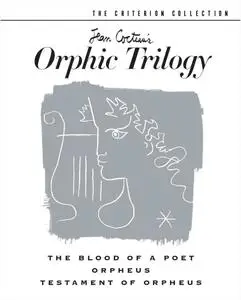 Jean Cocteau's Orphic Trilogy: The Blood of a Poet (1930) + Orpheus (1950) + Testament of Orpheus (1959) [Criterion Collection, Spine #66]
DVD Video, 2 x DVD5 + DVD9 | NTSC 16:9 | 720x480 | 0hr 52mn + 1hr 35mn + 1hr 20mn | ~ 14.5 Gb
French (Français): Dolby AC3, 1 ch | Subtitles: English
Genre: Fantasy, Biography, Drama, Romance
Decadent, subversive, and bristling with artistic invention, the myth-born cinema of Jean Cocteau disturbs as much as it charms. Cocteau was the most versatile of artists in prewar Paris. Poet, novelist, playwright, painter, celebrity, and maker of cinema—his many talents converged in bold, dreamlike films that continue to enthrall audiences around the world. In The Blood of a Poet, Orpheus, and Testament of Orpheus, Cocteau utilizes the Orphic myth to explore the complex relationships between the artist and his creations, reality and the imagination. The Criterion Collection is proud to present the DVD premiere of the Orphic Trilogy in a special limited-edition three-disc box set.