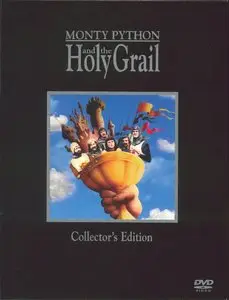 Monty Python and The Holy Grail (1975) [Collector's Edition] [2 DVD9] [2003]
A Film by Terry Gilliam and Terry Jones
2 Original Dual-Layer DVD Images (.ISO) = 8.8 GB | Complete Scans HQ PDF (800 dpi): 17.6 MB | 200 Mb RARs | FileSonic/Netload/FileServe
Comedy | 1.85:1 | Color | English Dolby Digital 5.1/Mono, French Mono | English, Spanish, French Subtitles | 91 min
Could this be the funniest movie ever made? By any rational measure of comedy, this medieval romp from the Monty Python troupe certainly belongs on the short list of candidates. According to Leonard Maltin's Movie & Video Guide, it's "recommended for fans only," but we say hogwash to that–you could be a complete newcomer to the Python phenomenon and still find this send-up of the Arthurian legend to be wet-your-pants hilarious. It's basically a series of sketches woven together as King Arthur's quest for the Holy Grail, with Graham Chapman as the King, Terry Gilliam as his simpleton sidekick Patsy, and the rest of the Python gang filling out a variety of outrageous roles. The comedy highlights are too numerous to mention, but once you've seen Arthur's outrageously bloody encounter with the ominous Black Knight (John Cleese), you'll know that nothing's sacred in the Python school of comedy. From holy hand grenades to killer bunnies to the absurdity of the three-headed knights who say "Ni–!," this is the kind of movie that will strike you as fantastically funny or just plain silly, but why stop there? It's all over the map, and the pace lags a bit here and there, but for every throwaway gag the Pythons have invented, there's a bit of subtle business or grand-scale insanity that's utterly inspired. The sum of this madness is a movie that's beloved by anyone with a pulse and an irreverent sense of humor. If this movie doesn't make you laugh, you're almost certainly dead.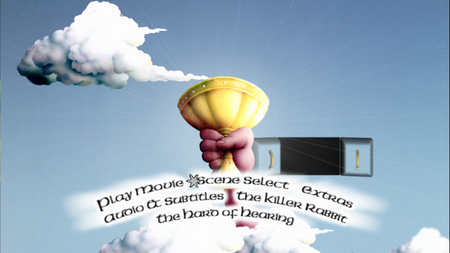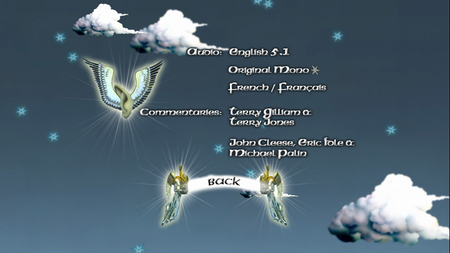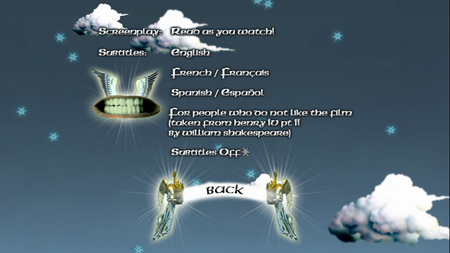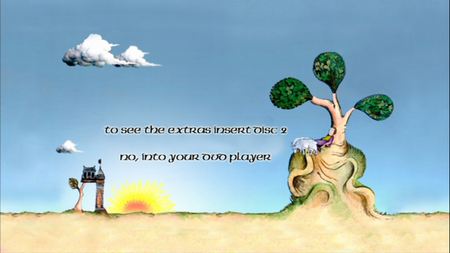 MOVIE:
DIRECTOR: Terry Gilliam and Terry Jones
COUNTRY: UK
YEAR: 1975
Cast & Credits

CastGraham Chapman
King Arthur / Voice of God / Middle Head / Hiccoughing Guard
John Cleese
Second Swallow-Savvy Guard / The Black Knight / Peasant 3 / Sir Lancelot the Brave / Taunting French Guard / Tim the Enchanter
Eric Idle
Dead Collector / Peasant 1 / Sir Robin the Not-Quite-So-Brave-as-Sir Launcelot / First Swamp Castle Guard / Concorde / Roger the Shrubber / Brother Maynard
Terry Gilliam
Patsy / Green Knight / Old Man from Scene 24 (Bridgekeeper) / Sir Bors / Animator / Gorrilla Hand
Terry Jones
Dennis's Mother / Sir Bedevere / Left Head / Cartoon Scribe / Prince Herbert (voice)
Michael Palin
First Swallow-Savvy Guard / Dennis / Peasant 2 / Right Head / Sir Galahad the Pure / Narrator / King of Swamp Castle / Brother Maynard's Brother / Leader of The Knights Who Say NI!
Credits
Director
Terry Gilliam, Terry Jones
Screenplay
Graham Chapman, John Cleese, Eric Idle, Terry Gilliam, Terry Jones, Michael Palin
Cinematography
Terry Bedford
Editing
John Hackney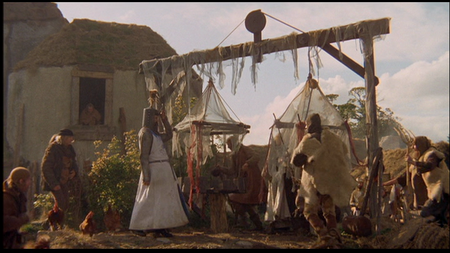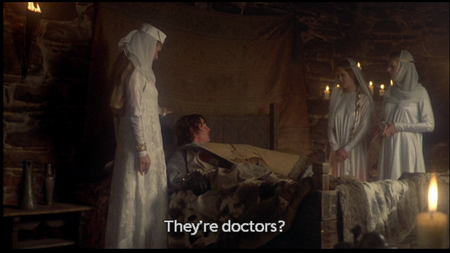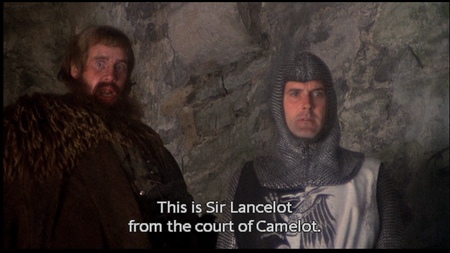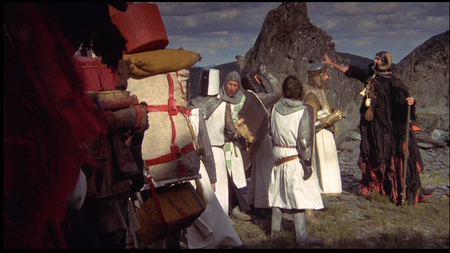 DVD:
DVD RELEASE: September 16, 2003
STUDIO: Sony Pictures
SYSTEM: NTSC
SCREEN: 1.85:1
Color
AUDIO: English Dolby Digital 5.1/Mono, French Mono
SUBTITLES: English, Spanish, French
RUNTIME (MOVIE): 91 minutes
EXTRACTION:
ENGINE: DVD Decrypter
DVD: 2 Full Dual-Layer DVD
FILE EXTENSION: Image (.ISO) + MDS File
FILE SIZE: 8.8 GB (5.16 GB + 3.64 GB)
SCANS HQ PDF(800 DPI): 17.6 MB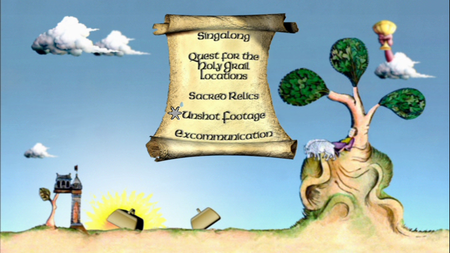 INFO:
AMAZON
WIKIPEDIA
IMDB
Special Features:

* High Definition widescreen presentation with pink frilly edges!
* Soundtrack in glorious 5.1 Dolby Digital!
* Subtitles in English, French and Spanish!
* Subtitles for People Who Don't Like the Film (taken from Shakespeare's Henry IV, Part II)
* On-Screen Screenplay: Read the screenplay while you watch the film!
* Extraordinary Animated Menus with very loud 5.1 Dolby Digital sound!
* Fascinating Scene Selection feature: all-moving, all-singing, all-tax-avoidance!
* Exciting "follow The Killer Rabbit" Feature!
* A special feature for the Hard of Hearing!
* A glorious extra 24 seconds absolutely free!
* Mono soundtrack in glorious old-fashioned mono!
* Three Mindless Sing-Alongs!
* Join Michael Palin and Terry Jones in their special feature documentary: The Quest for the Holy Grail Locations!
* Monty Python and the Holy Grail in Japanese! (With English subtitles)
* On Location with the Pythons: genuine 18 min. location report made in 1974 by BBC Film Night (broadcast 19th Dec., 1974)
* An Interactive Cast Directory: discover just how many roles Michael Palin plays!
* Theatrical trailers and, of course, Weblinks for real nerds! And more
* New to this edition: Exclusive film cel senitype