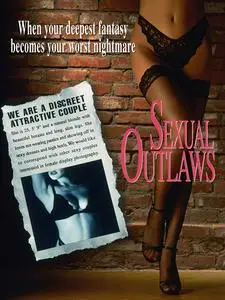 Sexual Outlaws (1994)
VHSRip | AVI | 640x480 | XviD @ 956 Kbps | English MP3 @ 128 Kbps | 88 min | 697 Mb
Genre: Thriller
The beginning of the movie, we meet Mitch Gaylord, a mute bum who pays prostitutes to strip so he can photograph them. He sends these pictures to Elizabeth Sandifer, who plays the sexually frustrated wife of a man who owns a magazine called "Sexual Outlaws", where husband and wife serve as the editors. To spice up their marriage, the character played by Elizabeth Sandifer, Lisa Bauer, responds to Mitch Gaylord's character, Francis Badham's advertisement. While they send each other erotic pictures and flirt by mail, one of Francis' prostitutes is killed. The police suspect Francis, who stumbles into Lisa, reveals who he is to her, and gets her to help him prove her innocence. Lisa participates in the entrapping of the real killer, and afterwards goes back to Francis' apartment for an erotic love scene.