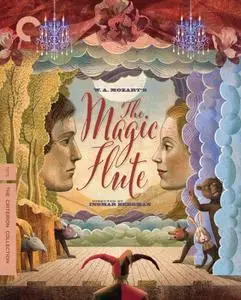 The Magic Flute / Trollflöjten (1975) [Criterion Collection, Reissue, Spine #71]
DVD Video, 2 x DVD9 | NTSC 4:3 | 720x480 | 2hr 17mn | 6.97 Gb + 5.75 Gb
Swedish (Svenska): Dolby AC3, 2 ch | Subtitles: English
Genre: Comedy, Fantasy, Music | Director: Ingmar Bergman
The Queen of the Night offers her daughter Pamina to Tamino, but he has to bring her back from her father and priest Sarastro. She gives a magic flute to Tamino and magic bells to the bird hunter Papageno, who follows Tamino and wants to find a wife. The duo travels in a journey of love and knowledge.