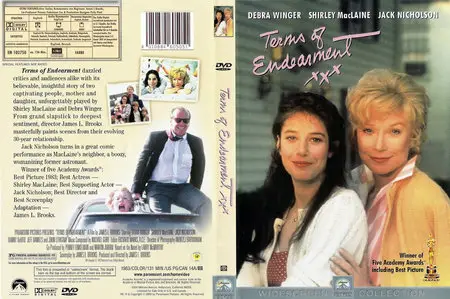 Terms of Endearment (1983)
DVD5 (cust.) | VIDEO_TS | PAL, 16:9 (720x576) VBR | 02:06:27 | 4.13 Gb
Audio: English AC3 5.1 @ 448 Kbps or AC3 2.0 @ 192 Kbps; Deutsch AC3 2.0 @ 192 Kbps
Subs: English, English HoH, Deutsch, العربية, Български, Polski, Čeština, Română
Nederlands, Dansk, Íslenska, Norsk, Suomi, Svenska, Türkçe, Magyar
Genre: Comedy-Drama
Terms of Endearment covers three decades in the lives of widow Aurora Greenaway (Shirley MacLaine) and her daughter Emma (Debra Winger). Fiercely protected by Aurora throughout childhood, Emma runs into resistance from her mother when she marries wishy-washy college teacher Flap (Jeff Daniels). Aurora is even more put out at the prospect of being a grandmother, though she grows a lot fonder of her three grandkids than she does of her son-in-law. Flap proves that Aurora's instincts were on target when he enters into an affair with a student (Kate Charleson). Meanwhile, Emma finds romantic consolation with an unhappily married banker (played by John Lithgow, who registers well in a rare "nice guy" performance). As for Aurora, she is ardently pursued by her next-door neighbor, boisterous astronaut Garrett Breedlove (Jack Nicholson).