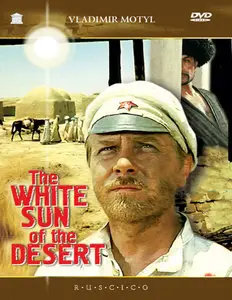 Белое солнце пустыни / Beloe solntse pustyni / The White Sun Of The Desert (1970)
DVD9 | VIDEO_TS | PAL, 4:3 (720x576) VBR | 01:20:09 | 7.36 Gb
Audio: AC3 5.1 @ 448 Kbps (each): Русский, English, Français, العربية
Subs: Русский, English, Français, Deutsch, Italiano, Português, Español
Nederlands, العربية, Svenska, 日本語, 中文, עברית
Genre: Adventure Drama, War Adventure, Eastern
This "Middle-Eastern", or rather a Central-Asian action film, about the Red Army fighting the counter-revolutionary robber bands has become not only a cult movie, but also one of the favorites for several generations of viewers. With Russian cosmonauts, it is a tradition to view this film before going to outer space. The film's success paved the way for a genre of national "Eastern". A demobbed soldier, Fyodor Sukhov, is making his way through the desert to his home village. The band of the brutal Abdulla is raging in that area. Sukhov is charged with escorting the chief's harem, because Abdulla intended to kill his women rather than let them go free. Sukhov's mate, a young soldier Petrukha, dies at the hand of Abdulla. But at the decisive moment, Sukhov gets help from the former customs officer Vereshchagin and a poor peasant, Said.