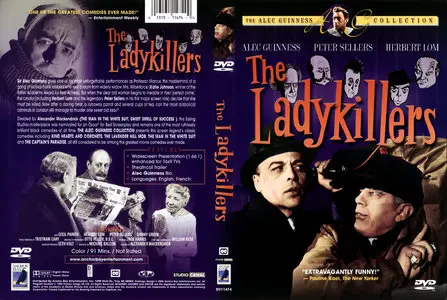 The Ladykillers (1955)
DVD5 | VIDEO_TS | NTSC, 16:9 (720x480) VBR | 01:33:40 | ~ 4.25 Gb
Audio: #1 English AC3 2.0 @ 192 Kbps; #2 Français AC3 2.0 @ 192 Kbps | Subs: None
Genre: Black Comedy, Crime Comedy
Music professor Alec Guinness rents a London flat from sweet old lady Katie Johnson. He tells her that, from time to time, several other musicians will visit in order to rehearse. In truth, Guinness can't play a note, nor can his visitors: he's a criminal mastermind, holding court over a gang of thieves, including the likes of punkish Peter Sellers, homicidal Herbert Lom and punchdrunk Danny Green. The gang uses Guinness' flat as headquarters as they conceive a daring 60,000 pound robbery. After pulling off the job, the gang stuffs the loot in a railway station locker. To avoid detection, Guinness convinces the ever-trusting Johnson to pick up the money. Through a series of comic complications, Johnson returns home with a police escort, with neither the woman nor the bobbies suspecting that she's carrying a fortune in her suitcase. Mistakenly believing that Johnson has ratted on them, the gang reluctantly plans to eliminate her.