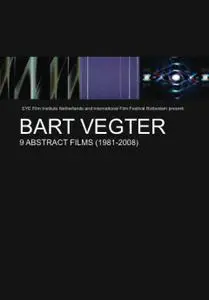 Bart Vegter: 9 Abstract Films (1981-2008)
DVD5 | VIDEO_TS | PAL 4:3 | 77 mins | 3,98 Gb
Audio: Music/Sounds AC3 2.0 @ 192 Kbps | Subs: Not needed
Genre: Art-house, Experimental
Bart Vegter (1940-2011) was self-taught and derived his primary inspiration from the methods of filmmakers such as Frans Zwartjes and Paul de Mol, and experimental cinema from the 1970s and 1980s. Before starting to shoot abstract films at age forty, Bart Vegter graduated from the Eindhoven University of Technology and worked at the laboratories of Shell and Philips. His oeuvre may be modest in size, but it excels in its eye for detail and craftsmanship. During the early years, he worked with traditional animation techniques. However, his last few films such as Nacht-Licht [Night Light], Space-Modulation and Forest-Views display a more idiosyncratic style attributable to the software he wrote.