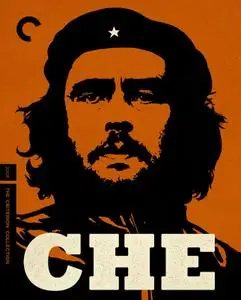 Che (2008) + Extras
Part One: The Argentine + Part Two: The Guerilla
BDRip 1080p | MKV | 1920 x 1080 | x264 @ 14,0 Mbps | 2h 14mn + 2h 15mn | 16,75 Gb + 16,76 Gb
Audio: Español DTS HD-MA 5.1 @ 3631 Kbps + Commentary track | Subtitles: English
Genre: Drama, War | Director: Steven Soderbergh | Extras: 3,91 Gb
Far from a conventional biopic, Steven Soderbergh's film about Che Guevara is a fascinating exploration of the revolutionary as icon. Daring in its refusal to make the socialist leader into an easy martyr or hero, Che paints a vivid, naturalistic portrait of the man himself (Benicio del Toro, in a stunning, Cannes-award-winning performance), from his overthrow of the Batista dictatorship to his 1964 United Nations trip to the end of his short life. Composed of two parts, the first a kaleidoscopic view of the Cuban Revolution and the second an all-action dramatization of Che's failed campaign in Bolivia, Che is Soderbergh's most epic vision.