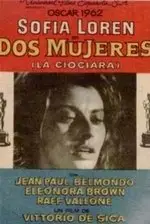 Two Women
100 min | Xvid 512x272 | 887 kb/s | 25 fps | MP3 106kb/s | 700 GB+ 3% recovery record
Italian | Subtitles: Spanish .srt | Genre:Drama
The war, that doesn't save up its bombardments in Rome, induces Cesira, a youth widow, owner of a modest grocery, to look for a shelter among the mountains of the Ciociaria where she was born. Her constant worry is that to the little thirteen-year-old child, Rosetta, are saved up the afflictions, the anguishes and the sufferings that the war inflicts also to the civilians how it is possible. They are friends, relatives and the serenity of the places that seem cut out of the tragicalness of those times to welcome the two women. But the front, in continous movement along the peninsula is getting near. The first victim of that small community is Michele, a timid person in love with Cesira, that in his tormented spirit of literate and wise farmer suffers more than the others the deep crisis of the war. A group of Germans, that tries to escape the pressing of the Allies, forces the youth to be their guide through the mountains.
Segunda Guerra Mundial / Año 1943. Italia durante los nueve meses de ocupación alemana. Cesira (Sophia Loren) es una campesina que, tras casarse, se va a vivir a Roma, pero se ve obligada a huir de la capital por el avance de la guerra. Preocupada por la su pequeña hija Rosetta, de trece años, la mujer decide refugiarse en casa de unos parientes en los montes de Ciociaria, donde a su llegada es acogida con entusiasmo y calor humano. La vida discurre serena lejos del frente, casi ignorando el conflicto que está destruyendo el país. La bella Cesira encuentra el cariño de Michele (Jean Paul Belmondo), un joven intelectual que quiere ser partisano y que, enamorado de ella, intenta persuadirle para que se una a la idea de un mundo nuevo, iluminado por un sentido más elevado de la justicia. (FILMAFFINITY)
Nombre del archivo…..: TwoWomen.avi
Tamaño (en bytes)……: 734,836,736 bytes
Tiempo (# de cuadros)..: 1:37:20 (145999 cuadros)

Codec Video ………..: DivX 5.0.5
Resolución………….: 512x272 [=1.882]
CPS ……………….: 25.000
Bitrate Video……….: 887 kb/s
Bits por Pixel ……..: 0.255 bpp
B-VOP, N-VOP, QPel, GMC: [B-VOP]…[]…[]…[]

Codec Audio…………: 0x0055 MPEG-1 Layer 3
Frecuencia………….: 48000 Hz
Bitrate Audio ………: 106 kb/s [2 canal(es)] VBR audio
Cant. pistas de audio..: 1
Rapidshare